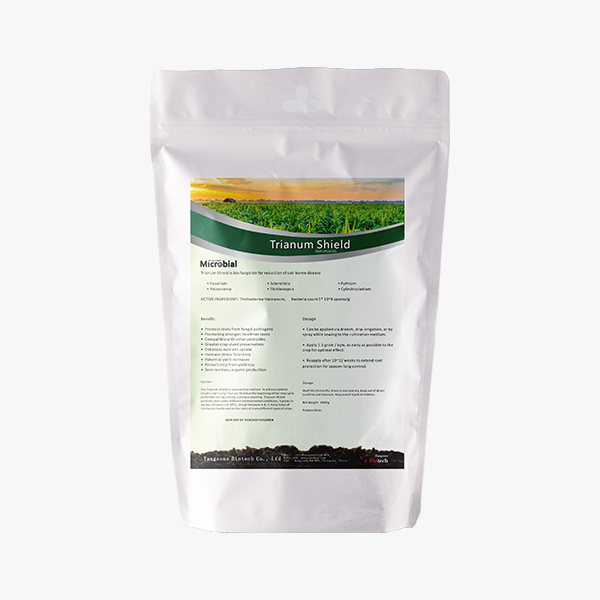 Trianum Shield
Bio fungicide for the reduction of soil-borne diseases


│

Inquiry Now
Disease Control

Fusarium

Sclerotinia

Pythium

Rhizoctonia

Thielaviopsis

Cylindrocladium



Benefit

Protects roots from damaging fungal pathogens

Promoting stronger, healthier roots

Compatible with other seed treatments and pesticides

Greater crop stand preservation

Enhances nutrient uptake

Increase stress Tolerance

Potential yield increases

Protect crop from yield loss

Zero residues, can be used in organic production
Mode of Action

Competition for space, faster grow than other soil borne fungi

Competition for nutrients, take ways the nutrients source that pathogens needed

Parasitism of pathogens, break down the cell walls and pathogen dies

Strengthening of the plant, improves the root system for nutrient uptake

Induced resistance, reinforces the defence mechanism of the parts of plant

Facilitating the absorption of fixed and non-fixed nutrients

Fusarium Control (1-4 days) T.Harzianum Treated (1-4 days)

Rhizoctonia Control (1-4 days) T.Harzianum Treated (1-4 days)
Dosage & Method

Can be applied via drench, drip-irrigation, or by spray while sowing to the cultivation medium

Apply 1.5 gram / sqm, as early as possible to the crop for optimal effect.

Reapply after 10~12 weeks to extend root protection for season-long control

Use Trianum-Shield as a preventive method. To achieve optimal results, start using Trianum-Shield at the beginning of the crop cycle, preferable during sowing, cutting or planting. Trianum-Shield performs well under different environmental conditions. It grows in various climates (10-34°C), at a pH between 4-8, in many types of cultivation media and on the roots of many different types of crops.
Information is being submitted, please wait...