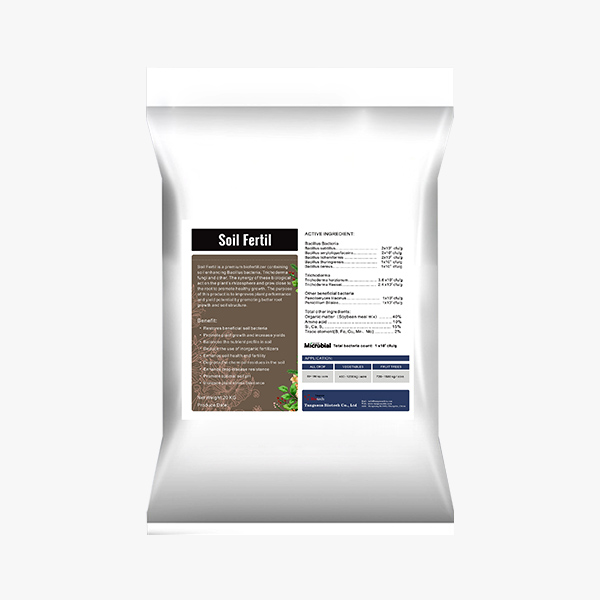 Soil Fertil
Soil Fertil is a premium biofertilizer containing soil enhancing Bacillus bacteria, Trichoderma fungi and others. The synergy of these biological act on the plant's rhizosphere and grow close to the root to promote healthy growth.
The purpose of this product is to enhance plant growth and vigor by optimizing nutrient availability and uptake. Soil Fertil improves plant performance and yield potential by promoting better root growth and soil structure. Contact us for biofertlizer for sale.


│

Inquiry Now
Active Ingredient

Bacillus spores...................3x109 cfu/g

Trichoderma..................3.6 x107 cfu/g

Organic matter.........................55%

Amino acid ...............................10%


NPK, ............................................5%

Trace element ........................... 2%
Benefit

Restores beneficial soil bacteria

Promote plant growth and increase yields

Reduce the use of inorganic fertilizers (NPK)

Enhance soil health and fertility

Degrade the chemical residues in the soil

Enhance crop disease resistance

Promote optimal soil pH under extreme environmental condition
Dosage & Method

Suitable for all kinds of crops, vegetables, Trees and palms

It may be applied by itself, or combined with a variety of other fertilizer programs

Apply 600 kgs /ha for field crops

Apply 1,000~1,500 kgs /ha for arable land vegetables

Apply 1,800~2,400 /ha for horticulture


Apply 3~5 kgs per fruit trees
Sustainable Fertilizers

The soil once teemed with microbes that supported crop and soil health. But long-term chemical-based agriculture has degraded these vital microbes – along with our food, water, and soil. The use of natural products that preserve the quality of the soil is on the mind of more and more producers worldwide, in response to the growing awareness of the need to turn agriculture into a sustainable activity.

Biofertilizer products increase the availability of nutrients for crops in a sustainable and environmentally friendly way.

The biofertilizers developed by Tangsons Biotech are products based on beneficial microorganisms of proven efficacy that live in association or in symbiosis with plants and naturally help their nutrition and growth. Soil Fertil organic fertilizers boost the productivity of a wide variety of crops, achieving larger yields with more and better fruit. In addition, they improve the soil and the environment in general in both organic and traditional crops.

Information is being submitted, please wait...