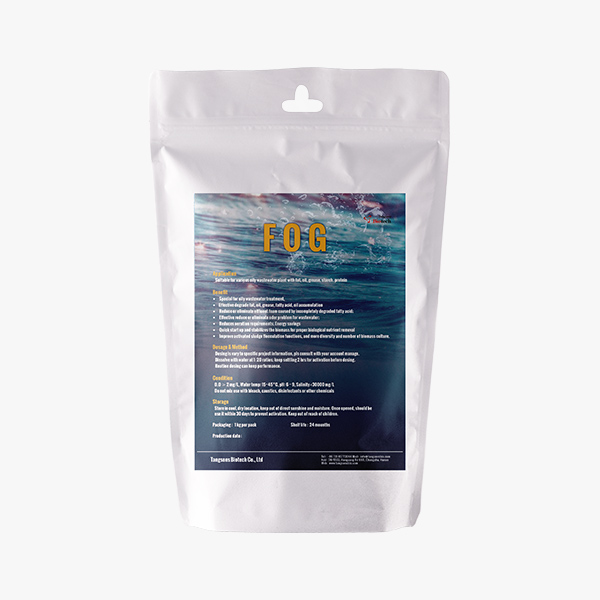 FOG
Degrade fat, oil, and grease
FOG Bioremove is a natural biological product consisting specially selected microorganisms, This product is safe and nature method to significantly digesting oil, grease, organic waste, eliminating odour and removing organic buildup in aerobic treatment systems and dissolved air flotation units. Contact Us for Remove Oil From Wastewater.


│

Inquiry Now
Application
Benefit

Special for oily wastewater treatment, effective degrade fat, oil, grease, fatty acid, oil accumulation, starch, protein in wastewater

Reduce or eliminate effluent foam caused by incompletely degraded fatty acid;

Effective reduce or eliminate odor problem for wastewater;

Reduces aeration requirements; Energy savings

Quick start up and stabilizes the biomass for proper biological nutrient removal

Improve activated sludge flocculation functions, and more diversity and number of biomass culture.
How does it work

FOG contains the same powerful biological consortia , specially formulated for wastewater or influent streams with fat, oil, and grease content over 100mg/L.This product significantly improves the efficiency of aerobictreatment systems, dissolved air flotation units, oil water separators, and grease traps.

FOG select live microbial cultures to generate the required enzyme chemistry in situ, resulting in rapid FOG degradation and preventing downstream solidification of fats ensuring pipework remains free flowing.
Dosage & Method

Dosing is vary to specific project information, pls consult with your account manage.

Dissolve with water at 1: 20 ratios; keep settling 2 hrs for activation before dosing .

Routine dosing can keep performance.

Condition: D.O ≥ 2 mg/L, Water temp: 15~45°C, pH: 6 ~ 9, Salinity <30,000 mg/L

Caution: Do not mix use with bleach, caustics, disinfectants or other chemicals
Case Study for Oily Removal from Petroleum Wastewater

Discover how do we use FOG in petroleum wastewater to degrade oil.Read More
Tangsons Biotech Solutions to Remove Oil from Wastewater

We at Tangsons Biotech do our best to make sure you appreciate our innovative solutions to remove oil from wastewater. Our products in these typical areas that include Agriculture, Animal Husbandry, Aquaculture, Waste Management, Bacteria supply, Waste Water Treatment, Surface Water Treatment solutions contain 100% naturally grown bacteria that multiply within their scale. We have performed all kinds of performance and affect tests right in our research labs before deploying them into commercial products.

Our innovations are supervised by world-class microbiologists and industrial experts who perform a wide range of tests with them. Tangsons Biotech is one of the first brands in the world to come up fast and effectively to treat wastewater problems using natural grade microorganisms. We lead the industrial market for problems on how to remove oil from wastewater. Well, if you are looking for similar and effective solutions to treat your wastewater in oil problems, then Tangsons Biotech has everything that you will need.
Information is being submitted, please wait...